Striptease is a feast for the eyes and soul. An erotic show performed by beautiful dancers will improve the mood of every man. However, striptease is also a unique, authentic atmosphere, unavailable during other forms of spending free time. Watching a stripper show alone or with friends, you can break away from the world and its mundane problems, rising to a higher level of relaxation.
Striptease in our club
The Bada Bing club focuses on striptease of the highest quality. For this purpose, we work only with talented girls whose alluring body and sensual movements affect every viewer. Each of our dancers is a diamond on stage. In his work, he combines the mystery of eroticism with sensual movements, exciting lingerie and eyes that arouse desire. In order to provide all guests with the best striptease experience, we have equipped the club with several independent stages. Each of them is equipped with a dance pole, is located on a platform and is individually lit. Striptease can also take place in the lounges and the VIP Room, at the special request of guests.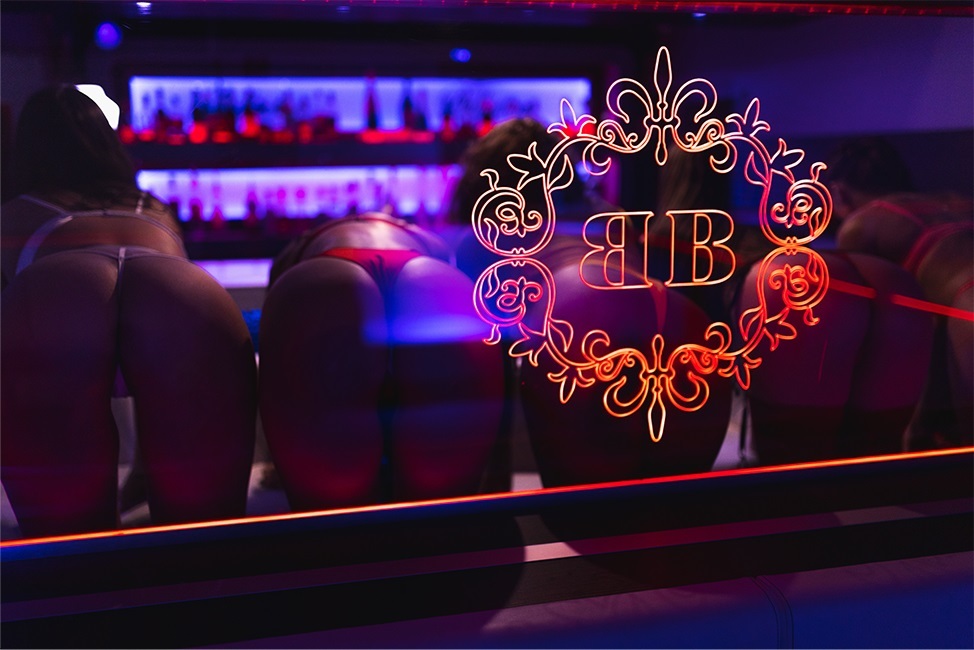 Who does the striptease?
Striptease is a form of erotic dance that can be performed by any woman. We perfectly understand the needs of our customers, which is why we diversify striptease shows with a large selection of dancers in various age groups and of various beauty. Our club cooperates with strippers from Poland and abroad - from the east, west and south. Each of them presents a different style of erotic dance and can arouse desire in every man. The dancers performing on the stage are dressed in underwear - panties, bras, corsets, bodysuits, tights, etc. During the dance, they gradually get rid of it, doing it in an extremely sensual way and affecting the imagination of the guests. If any guest liked one of our dancers, it is possible to order an individual striptease show. The conditions of such a dance are agreed directly with the dancer or the manager of the premises. The performance can take place at a table, in a box or in the VIP Room.
Striptease savoir-vivre
In order to fully enjoy the joy of striptease, it is important to follow the basic rules of savoire-vivre. The cultural behavior of our guests allows the dancers to fully focus on dancing and present the charms of their bodies as best as they can. We perfectly understand that the performance of naked girls is always exciting and it is difficult to stop certain natural reflexes and behaviors. During performances, dancers can perform striptease in the immediate vicinity of the viewer, also sitting on his lap and touching his body. However, we ask that guests treat the dancers with respect - do not jerk or use force against them in order to attract their attention. Our girls are professionals in their field and that's how they do their job. They will certainly notice your interest if you signal it in a gentlemanly manner.
Guests often ask us if they can buy the girls a drink or champagne as a thank you for a successful striptease? Of course, we understand your need to talk to the dancers after the performance and we have nothing against this form of thank you. However, it is always the dancer who decides whether she will take advantage of your invitation for a drink. Regardless of the decision, we also ask for a gentlemanly approach to our strippers, who, tired of the performance, do not always have to feel like talking or having more fun.
Professional striptease as a gift idea
Are you looking for an original gift for a birthday, jubilee or as a token of gratitude for a favor? Striptease performed by our dancers is one of the most interesting propositions in the city of Szczecin. In our club you can book a table, a lounge or a comfortable VIP Room, where a private striptease show will take place with additional attractions - the company of hostesses and served drinks, drinks and snacks. We organize both performances for individual clients, as well as prepare events for groups of several people. At your request, we can provide a dancer with the beauty and skills preferred by guests. We also invite you to use our unique attraction, which is Badacoin, our own currency. If you want to provide the recipient with the opportunity to choose the dancer himself, you can give him our club Badacoin tokens. One token is worth PLN 10 - they can be purchased in an unlimited amount, paying for them in cash or by card. A guest with Badacoins can pay with them in the club on the same terms as with normal currency.
We also recommend striptease as one of the attractions of special events that can be organized in the club. Among the most common are bachelor parties. Can anyone imagine a bachelor party without the performance of an erotic dancer? If you want to organize such an event at the highest level, just trust our experience and professionalism. We will take care of everything necessary to make you have fun all night long. You will certainly not miss drinks, good music and tasty snacks, and what is most important - the company of nice and pretty hostesses. The main attraction of the evening will be a striptease performed by a dancer chosen by your organizer.
How often is there a striptease in the club?
Regardless of the day of the week and the time you visit us, you can always count on live striptease. Depending on the number of guests in the club, one, two or more girls dance on the stages. All this so that each of you can admire the magic of erotic dance up close. We provide all our guests with 100% discretion and a non-embarrassing atmosphere. We especially invite people who have not been to go go clubs so far and striptease is a novelty for them. We will take care of you, find convenient places and serve something suitable to relax. All this to make you feel fully comfortable and want to honor with your presence again.
Striptease on individual request
Have more questions about striptease? Do you want to order an erotic dance performed by a specific girl for yourself? Or maybe you want to enrich it with non-standard erotic gadgets or lingerie? We are here to please you! Just approach one of our hostesses and tell her what you'd like to watch. We will try to fulfill your request at the highest level. Your satisfaction is most important to us. Private striptease sessions take place both in the boxes and in the VIP Room. Both of these places provide the discretion you expect and the best conditions for the performance. Striptease can be performed by one or several girls at the same time, to different types of music and different types of underwear. Get to know our dancers now and think about which one you want to see live. We invite you for a daily striptease at the Bada Bing go-go club in Szczecin. Visit us alone or take your friends with you! Don't forget to book your seats in advance - by phone or e-mail!